Who is CE?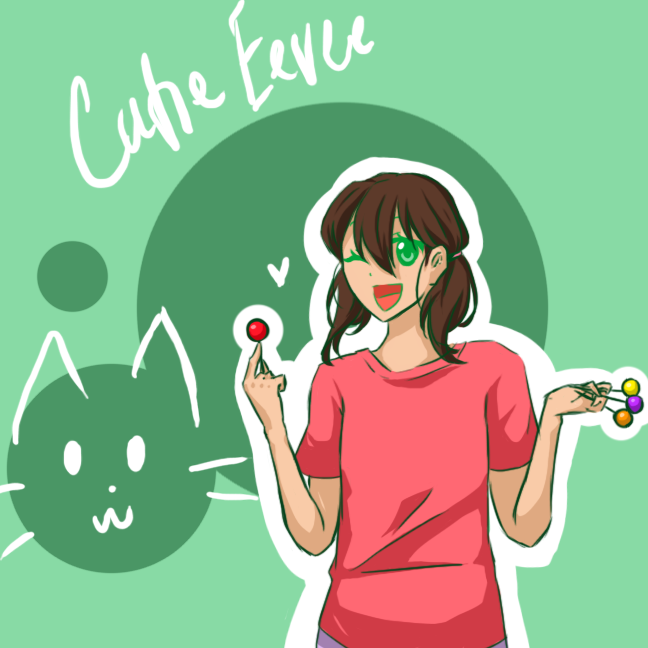 私を過小評価しないでください。
Please do not underestimate me.
(◕‿◕✿)
Tumblr
Yooo. I'm
CE
, a weird teen who loves anime, Vocaloid, video games, and writing. If you're new here and need a jump start in making friends, I can easily be your first one. I'm also an avid roleplayer, so if you ever wanna RP with me, go right ahead! I'm just kinda picky with some RPs. ~ヾ(^∇^)
------------------------
I'm the former Pichulala. ID picture by Kai.
Journal
thanks for the thing mae
BASIC...
Name: Michelle
Birthday: November 15th
Height: 5 ft 2 in
Hair Color: Dark espresso brown
Zodiac Sign: Scorpio

DO YOU...
Cuss?: Yes, and unfortunately, very often. But I try not to use it around my parents or teachers or just formal, public places in general.
Play Any Instruments?: Flute
Have Any Piercings?: Ears; simple pearl earrings
Have Any Tattoos?: Nope
Like To Annoy People?: When they annoy the heck out of me, yes
Like Life?: I'm pretty satisfied with life
Wear Makeup?: Rarely to never
Dye Your Hair?: Nope.
Scream At The top of your lungs for no reason?: Nope
Get Distracted By Shiny Objects?: Sometimes
Like Pina Coladas?: Never had one!
And Getting Caught In The Rain?: Hell to the no.

ARE YOU...
Dependable?: Well...sometimes
Trustworthy?: Yep! But it sometimes depends on the person who trusts me
Obsessive?: A bit...
Hyperactive?: Depends.
Happy?: Same as above.
Content?: Pretty much.
Boring?: Sometimes, yes
Violent?: ...I'm usually as gentle as a feather.
Evil?: Depends on situation.
Hippie-Ish?: Not really.
Shy?: In many situations, yes yes yes.
Paranoid?: Depends on the situation.
Annoying?: A bit, but I'm often aware when I am and try to change my behavior.
Social?: Depends on the people. Strangers, I tend to stay away, but with meeting new friends or friends of other friends, or people who have the same interests as me, I got all out.
Religious?: Nope.

WHATS YOUR FAVORITE...
TV Show?: Attack on Titan (anime-wise) and My Little Pony: Friendship is Magic, but I barely watch it anymore.
Movie?: The Incredibles after 9 years they've confirmed a sequel yEEEEEE
Band/Singer(s)?: Vocaloid like the weaboo trash i am
Song?: LUVORATORRRRRY by Gumi Megpoid and Rin Kagamine
Book/Story?: Dark Lord (I've only read the first book, though.)
Color(s)?: Pink
Shape?: Circle
Animal?: Cat or monkeys
Person(s)?: Pretty much EVERYONE on R50, close friends, parents, anime fans, people who are nOT HUGE JERKS
Smell?: Vanilla and bubblegum
Flower?: Carnations
Subject?: Math
Board Game?: Cards Against Humanity
Musical?: Mary Poppins (I rarely see musicals, ok)
Sport?: HOW ABOUT NO maybe tennis
Word?: Read bottom about quotes.
Quote?: I, uh, have none, honestly.
Hobby?: Writing, video gaming, internet browsing
Store?: Gamestop and Hot Topic I guess
Season?: Autumn
Time Of Day?: Noon

WHATS YOUR...
Worst Fear?: Death/Rejection/Humiliation
Life Goal?: I have many, but I guess my main is to become someone that many people notice in a good way and are (positively) influenced by me.
Greatest Accomplishment?: [awkward silence, sound of brain panicking to remember]

WOULD YOU EVER...
Kill Someone Else?: If they IMMENSELY annoyed me, maybe
Kill Yourself?: Nope!
Beg For Money?: Only if I really really desperately need it.
Skydive?: With a highly trusted professional and as long as I have a perfectly working parachute.
Bungee Jump?: Yes! bonus points in snk cosplay
Make out in the rain?: I probably won't get the chance to make out in general so
Run Away From Home?: If I had a much better place to go with a highly trusted friend, and under really bad conditions at home, I guess.
Ride A Motorcycle?: is it wrong if i technically can't ride a bike yet
Do Extreme Sports?: [sound of me laughing canningly]


0 Comments
Contact Cutie_Eevee